a)" DSHMC words' is an in-house quarterly magazine of DSHMC published regularly since 2013.
This highlights the important events of the college ,it's staff and students.
b)"Hahnemann Epidemics and Homeopathy"( vol46 No 19 Jan 2021).This article authored by the Principal and HOD of medicine Dr.Maneesha Solanki was published in Homeopathic Heritage,a peer reviewed Journal.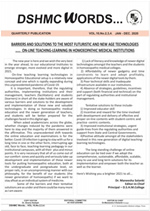 d)"A Retrospective study -A review of dengue Fever outcome under homeopathy" (vol2 Issue 1 Feb 2020 )another research publication authored by Dr.Maneesha Solanki was published in PDEA's International Journal of Researchers in Ayurveda and allied sciences,A peer reviewed Journal.
e)Another proud moment for Institute is publication of revised 3 rd edition of "Organon and Homoeopathic philosophy for everyone,"a book authored by Dr.Ajay Aserkar, Associate professor of Dept.of Organon on Jan 26th 2021.