Nyaymurti Madhavrao Ranade Memorial Homoeopathic Hospital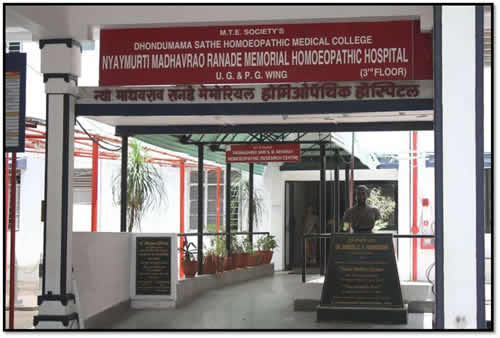 Nyaymurti Madhavrao Ranade Memorial Homoeopathic Hospital is a 50 bedded teaching hospital of Dhondumama Sathe Homoeopathic Medical College which provides efficient patient care and expert clinical training to our students.

            The Hospital consists of outpatient department, in patient department and homoeopathic dispensing unit.
It provides advanced homoeopathic treatment from experienced homoeopathic physicians at very nominal charges, and free of cost to the senior citizen.

Apart from general OPD's, other specialty OPD's and Evening OPD's have been introduced for various ailments.

            With the team of efficient doctors and paramedical staff we have successfully treated various, acute, chronic and incurable conditions in our homoeopathic IPD, like Viral fevers Non-healing ulcers, burns, deep vein thrombosis, acute pancreatitis, Obstructive jaundice, Psoriasis, Stroke and palliative care of malignancies and many more. These cases are published in our College's Quarterly news letter DSHMC Words.

            The institute runs peripheral OPDs, to make our service available to the public at their door steps. Patients of Peripheral OPD's are providing almost free medical services with facilities referred to the Hospital for IPD and diagnostic purpose at nominal charges.

As this is an academic Institution, patients suffering from various ailments are admitted for treatment as well as for clinical training for student.

            These OPD's provide Health care facilities to the poor and needy and builds social and community awareness amongst our future doctors.

            Conducting Community awareness and Homoeopathic awareness camps is an integral activity of the Hospital which is done on regular basis within Pune and its suburbs.

Our Hospital is also involved in the Research activities conducted by the attached PadmashreeAnnasaheb Beharay Research center of our Institute.

            We are all committed to work at our Hospital so that this becomes one of the unique centre for patients who would like to take homoeopathic treatment at most affordable rates and for homoeopathic physician who want to treat patients at indoor  and for students to learn Hahnemannian Homoeopathy.
24 hours working hospital and well trained doctors' staff working round the clock.

Hi tech central Homoeopathic OPD's.
Specialty OPD's.
Peripheral OPD's
Separate dispensing unit for Homoeopathic Medicines.
50 bedded well equipped homoeopathic IPD.
Affordable treatment with minimum bed charges.
All Investigations available at one roof at nominal charges.
Special offers to Senior Citizens.
Regular conduction of Community health and Homoeopathic awareness camps.
Regular conduction of Continuous Homoeopathic Medical Education seminars.
Good ambience and patient friendly atmosphere.
Canteen facilities available.
Patient friendly medical and paramedical staff.