Shri. Prithviraj Deshmukh, Chairman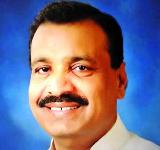 Dear All,

I have a proud privilege to be the Chairman of a very reputed organization, Maharashtra Technical Education Society, Pune, which was established in 1945 by Late. Shri. Dhondumama Sathe, a social worker and a visionary.

We follow the aims and objectives led down by Ministry of AYUSH in the field of Homoeopathic education and practice, in letter and spirit. Thus strive to be one of the premier institutions in imparting Homoeopathic education and Patient care & Research, in our State.

We are committed to propagate Advanced Homoeopathic system of Medicine to train qualified, skilled Homoeopathic doctors across the country and provide effective and affordable homoeopathic treatment to the masses.

Our sole endeavour is to be a seat of excellence in Homoeopathic education and practice.
Shri. Prithviraj Deshmukh,
Chairman, MTES Pune